TDS Environmental Network : The PlanetWatch Group
TDS Environmental Media publishes original content to our own blogs and others. We also curate the most relevant and interesting environmental stories from across the web.
News, resources, and commentary on climate, energy, and sustainability.
---
PlanetWatch.earth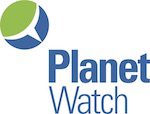 It's our turn on watch
---
Green Market Oracle

The convergence of sustainability and the global environment.
---
Misleading messages claiming environmental benefits. Learn how to distinguish honest efforts toward sustainability from mere greenwash.